In this new era of digitalization, the way you respond to your customers and their feedback decides the fate of your business's online reputation. Google reviews, the most common and widely used instrument, help shape your company's goodwill locally and globally.
Therefore, ensure that you continue to receive multiple positive google reviews. Also, maintain a steady flow of google business reviews from your loyal customers.
At the same time, don't ignore the grievances of the dissatisfied customers; try to resolve their issues and strive to turn them towards being the most loyal customers.
This is indeed the chief way to act toward customer retention and gain future customers!
But writing Google reviews needs the utmost skills and attention. That's why, we bring you this blog wherein we list 8 tips to write good Google reviews.
But before we go ahead, let's understand what makes a review a good review.
What Makes A Good Review?
Good reviews on Google Business will help others find the places or business locations that are right for them and increase the likelihood of them being published.
Here are some pointers which make Google reviews good. Also, share this information with your customers.
Be insightful and instructive: Be specific and relevant to the place you're reviewing, and talk about what other people who visit it might go through. Emphasize the place's unique qualities and share something new.
Be sincere: Tell us what the location seemed like and what kind of assistance you received. Include both the positive and negative aspects of your visit, and try to be as accurate as possible.
Respect others: Business owners mostly use feedback to enhance their offerings. So be sure to offer constructive criticism even if you are frustrated. Also, please don't use profanity.
Style your writing: Avoid using too much capitalization and punctuation, and check your spelling and grammar. A review should, on average, be one paragraph long at maximum.
Keep professional and personal information separate: Your reviews should not contain URLs, phone numbers, or information about any other businesses. In addition, you should avoid writing reviews for companies in which you are employed, either now or in the past.
Tips To Share With Customers Who Want to Learn How To Leave Google Reviews
Following is the simple process that you as a business should inform your customers to follow, even if you send a review request or provide a Google review link to them via email, SMS, or phone number after purchasing a product or service.
Step 1: Write A Google Review From Your Browser
Browse Google on a PC. Sign in and search for the item you need to survey.
Make sure you only write a review if you are aware of the name and brand of the product because you might end up writing something similar! Movie, product, and location reviews all benefit from this strategy!
Click on Submit a review. This is displayed in the panel beneath the heading "User reviews" on the far right of the page.
Rate the product by clicking on the stars. You can also give google seller rating for the whole thing using the empty stars.
Click 'Write Review' if you want to change the ratings. Also, write an explanation in the space provided.
Add photos if allowed.
Click Post. It will publish your review and can be found in the lower right corner of your screen.
Step 2: Write Online Reviews From The Google Maps App
Open the Google Maps app on your mobile device. You can download and install the app for free on Android, iPhone, or iPad if you do not already have it.
Locate the location you want to review. Check the address to ensure that the one you want to review is the one you have selected if there are multiple locations.
Swipe up to view more information about that location. Alternatively, you can tap the name or address.
Click on the Reviews tab. The overview, directory, and services tabs will be displayed below the location's image view.
Tap the stars you would rate the spot. You can give the place an overall rating using the empty stars.
Write the review. By tapping them, you can change how many stars (out of 5) you want to give the location, and you can also write an explanation for your rating.
Add photos and videos below the text box from your phone.
Click Post. It will publish the post to the Google search results for that location and can be found in the upper right corner of your screen.
How To Read Customer Feedback?
Open Google Maps, then select Contribute > View your profile if you want to read your review.
How To Delete Customer Feedback?
Go to Contribute > View your profile > See all reviews (for Android) or Delete review (for iPhone/iPad) in Google Maps to delete a review.
You can also use trusted review sites to honestly post reviews about any company you wish to review.
8 Tips To Help You Write Great Customer Reviews On Google For Any Business.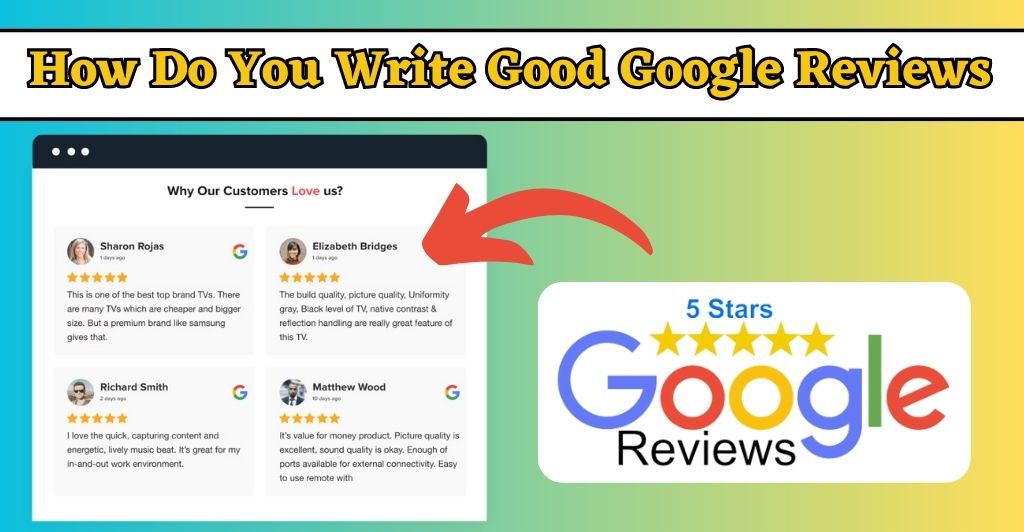 1. Give Constructive And Useful Feedback
A good review provides enough detail to help others understand what happened. Describe the factors contributing to your good, bad, or just okay experience. You could also express your opinion on the company's strengths and areas for growth.
However, maintain polite conduct!
2. Be Truthful, Precise, And Thorough
There is no rule stating that you must write only a few words in a review; however, the more specific you can be, the more likely the review will be helpful.
We recommend you write from your perspective, be truthful, and stick to the facts. Assist readers in developing empathy.
3. Discuss A Variety Of Topics, Including Customer Service.
Address your overall experience, including the level of customer service, to make your review more relevant. Remind people of the company's assistance. By focusing on one aspect, such as the quality of the product or the delivery options, readers can gain a deeper understanding of the product.
4. Keep Things Amicable
The purpose of reviews is to recognize the good and improve the lacking, but when the reviews are published online, they become public. As a result, customer reviews are subject to the same guidelines as any other published opinion.
If you've had a bad experience, it's better to behave calmly and collectively than point the finger at blame. Leave it up to the readers of your review to make their own decisions and explain what transpired.
5. Avoid Personal Information Reviews
Information that can be used to identify individuals, such as names, phone numbers, or addresses, should not be included in reviews.
6. Edit Your Reviews If Necessary
You should edit your reviews to reflect on the unfolding experience.
7. Make Sure The Name Of The Company You Want To Review About Is Correct
Make sure your review is posted in the right place. Look through the Google My Business Page to verify the business information and listings.
Although reviews are made public, there is no guarantee that the company will see your feedback. You should contact the company directly if you have an urgent issue.
8. Edit Your Reviews
It's wise to ensure that your review is clear, checks out, and has no mistakes before posting, yet an astonishing number of audits contain blunders. Therefore, before clicking "submit," remember to glance over your text quickly.
Why Is It Important For Businesses To Respond To Good Google Reviews Shared By Customers?
To know why it is important to respond to positive reviews, you must first understand the advantages that positive reviews from happy customers about their customer experience bring to your business.
To gain more google reviews, you can also make use of review requests. Possessing positive reviews about your business or products on the search engine has numerous advantages. A few are listed below:
1. Boost Revenues
93% of people who want to learn more about a product they're considering buying look at reviews online.
2. Greater Conversion Rate
As a result of the authenticity and credibility that reviews and stars add to your business listings, potential customers are more likely to look through your products. The positive reviews you get will convince customers to buy your product, even if it has a good description.
By showing them that other people are enjoying your product, you will be able to increase sales and profits.
3. Enhance The Company's Image
Your business's reputation is boosted when you receive positive customer feedback.
4. Increase Your Search Rankings
Google and other search engines use off-site indicators to assess your company's relevance, credibility, and dependability. One of the most consistent ways for businesses to improve these indicators is through reviews.
Therefore, it helps boost your local SEO. The algorithms of Google regarding reviews and related review policies are strict and adhere to community welfare.
Your company's success in local search results depends on responding to Google reviews. That's why you should possess a Google My Business account and stay up-to-date with the requirements of your target audience.
5. Tell the audience - you listen
You demonstrate to customers that you are dedicated to listening to their concerns and exceeding their expectations by responding to positive and negative feedback.
When they leave a review, one in five customers expects to hear back from you.
Customers who write positive reviews and those who write negative reviews should feel recognized and appreciated. Your value for your customers is a clear indication of your future success.
Fake reviews can be treacherous to any company or a local business looking to soar online. However, replying to reviews like false statements or opinions can show how inclined you are about your online presence.
You can also attempt to flag the review as inappropriate if needed.
How Businesses Should Respond To Positive Reviews?
Positive reviews help boost the reach of your small business, bringing in new online reviews from happy customers. Business owners must pay special attention to responding to user reviews. Some ways in which positive feedback should be handled are listed below-
1. Respond Faster
When a customer gives you a good review, you shouldn't just sit back and take it all in. Instead, you should quickly respond to their message to show how happy they are. This demonstrates that you value customer feedback and are appreciative of their review.
You can also start a live conversation with the customer if you respond quickly enough. You can get even more feedback by asking them about specific features, memorable experiences, or minor friction points.
This will not only give you helpful information, but it may also result in more favorable feedback for your business.
2. In Your Responses, Refer To Customers By Name
Individually acknowledging the names of the happy customers who appreciated your products or services brings them satisfaction and attention. When people hear their words, their attention is drawn in.
It has been seen that Hearing one's name has unique brain functioning activation specific to one's name, according to a study by Dennis P. Carmody and Michael Lewis on brain activation when hearing one's and other people's names.
3. Show Your Appreciation
If you don't show appreciation, you can't expect others to.
For example, showing appreciation to a customer who gave you a positive review demonstrates that you don't just pay attention to the reviews but also to the customer who doesn't give you a headache (which is surprising how frequently this is overlooked).
You can also attach a screenshot of the actual conversation to be more authentic and Appreciative.
4. Contribute More Value
Would simply saying thank you suffice? What distinguishes your brand from others responding to a positive review?
By having an amicable approach, you can get value if you provide additional value.
For example, offer them to use the beta version of your upcoming features, and what if they come up with a positive review praising the app's new feature?
Think out of the box!
5. Encourage Clients To Stand Up For You
Pleased customers can become devoted advocates! Ask the customer if they would be willing to share their review with others when responding to a review. Or, ask them if you can post their review on the social media pages of your business. A great marketing strategy for acquiring new customers is to share their stories with your followers.
6. Use A Cordial Salutation
Be sure to end the conversation on a positive note before you leave. Also, personalize the message in an enthusiastic tone. You ought to be excited that the client posted positive reviews so the world could see.
7. Keep Track Of All Customer Comments
Businesses can learn a lot from customer feedback, whether it's positive or negative. A positive review can teach your team just as much as a negative one. Additionally, if you want to enhance the customer experience at your company, it is essential to record both types.
Negative feedback reveals the immediate issues with your customer service and what customers believe you can do to address them.
Positive feedback shows your strengths and areas for improvement if you want to keep customers. Keeping track of both to improve the customer experience without jeopardizing any accomplishments is essential.
5 Easy To Use Templates To Respond To Positive Reviews Of The Customers
Template 1: (Customer Name), we sincerely appreciate your review! I am pleased to learn that you are enjoying using our app. It's great to know that we are achieving our goal of offering a variety of workouts, as we have made it our mission to do so. Again, we appreciate your feedback.
Template 2: (Customer Name), we appreciate your feedback! I am overjoyed to learn that you were pleased with our food and service. It's great to know that we are on the right path, as we are always looking for ways to enhance customer service at our restaurant. Please let me know if we can do anything else to improve your subsequent visit.
Template 3: We appreciate your feedback, (Customer Name)! Our fried chicken wings sound like a hit with you. We are overjoyed to learn that the crunch and flavor met your expectations. We want to continue serving delicious meals and take great pride in the quality of our food. Please let us know if there is anything else we can do for you!
Template 4: We are obliged to you (Customer Name) for your review. We're delighted to hear that you participated in your visit and found our staff support. When we can assist guests in making the most of their time spent with us, whether by recommending a restaurant or showing them how to get around town, it is always a pleasure! I'll tell (Employee Name) that you appreciate her help, and she'll be overjoyed.
Template 5: We appreciate you sharing your experience with (Customer Name) and (Company Name)! We are overjoyed to learn that using our app was simple and easy for you. Your experience reflects our hard work in improving the app's user experience. We're glad your experience was positive because our team works hard to ensure that customers enjoy using our product!
What About Negative Reviews - Why Respond To Negative Google Reviews?
You should respond to negative client reviews. It requires as much consideration as your positive audits. The reasons are listed below:
1. It Reveals Your Humanity
Every living thing makes errors. Responding to a negative review demonstrates that there is a real person behind your business offline. And as a result, your future clients will be more at ease with you.
2. You're Conversing With Everybody
You are addressing the negative reviewer and potential customers who view your online reviews and responses by responding. They will empathize with you because they know you care about your customers' feelings.
3. You Are Demonstrating Your Concern
Responding to a negative review demonstrates that you are concerned that your customer had a negative experience and that you are taking steps to rectify the situation and prevent it from occurring again. Building trust requires responding to reviews rather than ignoring them.
4. Your Online Reputation Is Impacted
Maintaining a positive brand name necessitates dealing with negative feedback on review platforms and sites. So keep an eye on how your brand is perceived online, not just on Yelp or Google reviews. To sustain online, you must practice reputation management, no matter how small your business is.
5. Contributes To Your SEO
Yes, you will appear on the first page of results if you have positive reviews on social media, Google maps app, Yelp, Tripadvisor, or Google My Business. However, more than having business reviews are needed to guarantee a higher ranking. Additionally, responding to negative Facebook reviews or other social network feedback is crucial. Therefore, think twice the next time you consider disregarding a negative review.
5 Easy To Use Templates To Respond To Negative Reviews Of The Customers
Template 1:
I'm sorry that you had a bad experience with our company, (Customer Name). When working with individuals experiencing difficulties communicating due to a TBI, our employees are instructed to be patient and understanding.
We encourage you to get in touch directly so that we can learn more about how we can better serve you in the future. We want to help ensure that your voice is heard. Please let us know if there is anything else we can do for you. Once more, thank you for reaching out!
Template 2:
We appreciate your feedback, (Customer Name). I am sorry to learn that your impression of our business was negative. To fulfill the needs of our clients and candidates, we are currently undergoing some adjustments to our approach. We are putting in a lot of effort to improve what we do, but it will take time. I appreciate that you took the time to share your thoughts with me. I will ensure that they are transmitted internally so that others can learn from them and make adjustments as necessary.
Template 3:
(Customer Name) our company appreciates your review of our products and services. I'm sorry that we could not fulfill your requirements and that your experience was less than ideal.
We want to ensure that all our customer interactions reflect our pride in providing professional service. Please let me know if there are any specific details about your application or the process that you would like us to look into so that we can prevent these problems from occurring again.
Template 4:
(Customer Name) I appreciate your feedback. I apologize again for our attorney's behavior and am sorry that she could not meet your expectations. We will discuss the incident directly with her because we take this seriously.
We want our customers to know that no matter what they need, we are here to help, even if it's just a little guidance from one of our staff members who can point you in the right direction.
Please be aware that we respond to all emails sent through the (Company Name) system within 24 hours due to our commitment to excellent customer service. Please let me know if there is anything else I can do!
Template 5:
I am sorry to learn of your negative experience with (Customer Name) and (Company Name). In order to respond appropriately to you and other potential customers, I would like more information about what transpired. Please get in touch at (Company Email) or (Company Phone Number) for additional discussion.
Conclusion
Satisfied customers leave google business reviews after searching for your business name online, which gives you an excellent online reputation. Their testimonials act as a decision-making base for thousands of others. Being smart with your review response when negative reviews while being effortlessly appreciative in parsing positive reviews earns you more online presence and value. It also ensures that in future no issues pop up.
FAQs
1. How can you rate a company on Google?
Sign in to your Google account first. Then, find the Google Business profile of the company you want to review on Google. Next, in the blue text, select the number of reviews. Then, in the upper right-hand corner, click Write a Review.
2. Can a Google review be written without an account?
No. This was possible in the early days of Google Reviews; however, you can only leave a Google review with an account.
3. How can I keep my Google review private?
On Google, you can no longer write reviews anonymously. Instead, your review will be automatically linked to your Google account by Google.
4. Where can I find my Google reviews?
You can either search for your business and click on the number of reviews, or log in to your dashboard and manage your reviews from within your review section in the dashboard.
5. How much time do Google reviews remain online?
Unless the reviewer deletes it, Google reviews will remain posted indefinitely, despite new reviews appearing regularly or rarely.