In the days before the internet, businesses relied heavily on two marketing tactics: traditional ads in newspapers, TV, and word of mouth.
But now we have the internet and Google to replace traditional marketing channels.
Today, you can grow your business revenue and ROI using paid ads on multiple digital platforms, user-generated Google reviews, and star ratings.
As you must have figured out by the title of this blog, here we talk about one of these: Google reviews.
You must have heard about all the good things about them, that they:
Create brand trust
Increase online exposure and local SEO
Provide a feedback loop for customers
Improve Click-through rates (CTR) of the website
Help in converting more customers
Despite these reasons, from where did this question arise, "How much can my Google Reviews damage my business?"
It may feel weird, but this is a concern faced by many business owners who had terrible experiences, and we say they are not entirely wrong to worry about the Google reviews on their Google My Business listing.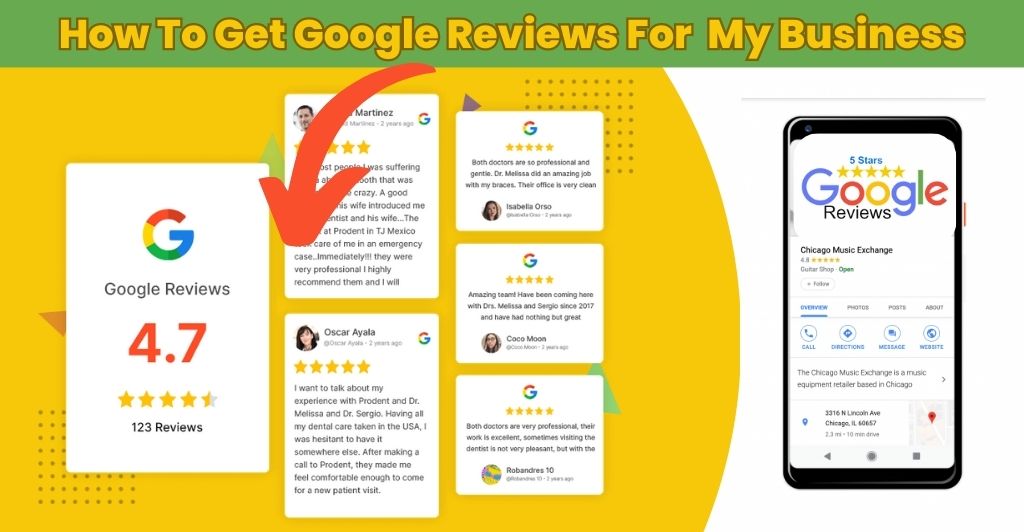 3 Possible Reasons Businesses Think Google Reviews Can Damage Them
Positive Google reviews on your Google business profile are a social media digital marketing tactic that is done free of cost for you by your happy customers. It can help you improve your business name and reputation significantly.
However, not all Google business reviews are positive. In this section, we present to you three types of Google reviews that might damage your business.
Not just that, we enlighten you with step-by-step guides on getting rid of these bad reviews.
#1. When Reviews Are Negative
People may leave a Google review in two customer experiences: when they are delighted with your services or highly disappointed.
Research shows that "67% will consider leaving a review for a positive experience, while 40% will consider leaving a review for a negative experience."
The negative Google reviews you will receive can harm your business badly.
What Can Negative Reviews Do?
Negative reviews can harm a business in over one way; we briefly discuss some of those.
When you made your Google business page, you decided to be seen by anyone and everyone on the internet.
If potential customers stumble upon your GMB listing and see a bunch of negative Google my business reviews, then the chances are they will not buy from your business.
Why does this happen? Why can't customers see past a few negative reviews?
This happens because we, as humans, have a negative bias. Studies about negative bias prove that we give more importance to negative experiences than positive or neutral ones.
More Negative Reviews Mean Less Revenue
Remember, we mentioned how positive reviews could bring higher revenue and more ROI for your business. Negative ones will do just the opposite. More negative reviews are potential customer repellents.
We all check Google customers' reviews of local businesses on the Google Maps App before we engage with any company. Only if we had a dollar for every time we rejected a business because of negative reviews on their GMB profile.
According to Invesprco, 86% of people hesitate to purchase from a business with negative online reviews.
If fewer and fewer customers are interested in your business, this will directly translate to less revenue.
Negative Reviews Demand More Rehabilitation Costs
Also, another seldom-overlooked factor in getting negative feedback is that it demands more rehabilitation costs.
Before anything, what are rehabilitation costs?
According to the Law Dictionary, rehabilitation costs are "An expense that is incurred when restoring an entity to its normal or near normal condition."
As mentioned above, when a business gets a bunch of negative reviews, it can mess up a business's online reputation. Companies have to incur a cost to revive their digital presence in such cases, and customers can move on from the bad reviews.
This cost may include the following:
Increased social media digital marketing budget so that potential customers can see the good in your business
More employee acquisition to make a better first impression on the new customers
Expenses on new technology will be needed in dealing with bad reviews and seeking positive ones—for instance, fees of an online reputation management company or review management tool.
How To Deal With A Bad feedback?
This was about the repercussions you face when negative reviews pile up on your website, but what do you do when this happens?
Stay tuned to know the solution.
According to Trustmary, "56% have changed their opinion about a business because of a response that the business gave for a review."
If you get a negative feedback, what do you do? First things first, you respond to it.
When you don't ignore a customer's negative experience, you look accountable in front of the reviewer and potential customers.
While replying, follow the 3 DON'TS
Don't ignore
Don't make excuses
Don't be rude
Then, how should a business respond to a negative review?
To curate a perfect reply to a negative response, follow our 5 tips.
Tip 1. Provide A Prompt Response
An apology after a week will do no good to anyone. Your reviewers will be fast and furious when they type a negative review, so you better be fast and sweet.
One member of your team should always keep track of the new reviews and reply to them ASAP. This will show customers that their concerns are a priority.
How fast are we talking? Try to give a helpful, well-spoken reply within 24-48 hours.
Tip 2: Start With Their Name And End With A Thank You
It's extremely important how you start and end a detailed reply. We suggest you include their name in the text to make it look personalized and humane.
After addressing them by their name at the start, and end the reply with a "Thank You."
Tip 2: Acknowledge Their Problem And Empathize
Most of the time, customers who submit a negative Google review want businesses to hear them. So, as a business owner, make sure you let the dissatisfied customers know you listened to their complaints and will work to resolve it.
Empathize with the customer, even if you think they are wrong; they shouldn't feel that a genuine issue is being sidestepped.
Tip 3: Offer A Solution
Give them a reason to return to your business by providing appropriate compensation. For example, give them incentives such as
A gift card
Limited free service
A freebie
Half or full refund
This shows that you don't talk but believe in action to make things right.
Tip 4: Apologise and be accountable
What's the point of replying to a complaint if you will not offer an apology? Even if you think a customer is unreasonable, take the high road and apologize.
Explain if you have a genuine one to give; otherwise, don't give excuses and take responsibility for whatever has happened.
Tip 5: Ask For Contact Information
Take things offline by asking for contact information. Don't just keep the conversation online; pick up a mobile device and dial their number.
Tip 6: Ask Them If They Would Like To Update The Negative Review
If a customer submitted a negative review, and you solved their problem by providing compensation or better services, then don't hesitate to ask for positive review.
Most customers wouldn't mind updating their negative response to a positive one if you genuinely heard their concern and tried to make things right.
Bonus: To help you further, here's a template you can use while responding to a negative Google review.
Hi (client's name),
We are sorry to hear about your experience. We appreciate you reaching out, and we are sorry to learn that our (insert service, for example, customer support, sanitation, delivery time, etc.) has fallen short of the level you deserve.
Our entire team apologizes for the incident. (Explain if there is any explanation)
We want to make things right for you by giving you compensation as an apology.
Please share your contact information (email or phone number), so we can reach you personally, and we would be happy to discuss the issue at your earliest convenience.
Thanks and regards,
(Your name and designation)
(Company's name)
#2. When Reviews Are Fake
Both negative or positive reviews are helpful for businesses and potential customers. However, your haters may use the review system for their hateful purpose. They indulge in leaving false reviews on your Google My Business listing.
Make sure you go through Google's review policies about which sort of content is prohibited and restricted. For example, any kind of harassment and hateful speech which contains personal information, threats, impersonation, fake engagement, or obscenity is not acceptable.
How to deal with fake reviews?
There are several things you can do in case you see fake reviews on your GMB profile, such as
Share your story on social media
Let your followers and prospects know that the reviews that might influence their opinion of your brand are fake. Share proofs on major social media platforms, including Instagram, TikTok, and Facebook.
Monitor other review platforms
If you're facing fake reviews on Google, you may get bombarded by fake reviews on other platforms, like Yelp, Facebook, or G2. So make sure you keep tabs on all the different platforms, too.
#3. When A Business Faces Weaponized Review Campaigns
Read this news from the Economic Times when several restaurants in New York were targeted by internet scammers threatening to leave unfavorable "one-star" reviews unless they received gift certificates.
There's a designated term for this practice, which is review bombing. Read more about that here.
There's not a lot of damage that one bad review can do, but imagine getting bombarded by a streak of evil, weaponized reviews. Your business will take a toll on itself, and it will psychologically impact the buying decisions of your potential new customers.
How to remove bad reviews from Google?
When a business receives a few bad reviews, it may feel like deleting them. First, though, can you remove bad reviews?
Well, the short answer is yes, you can, and the long answer is it depends.
Google wouldn't remove a bad review just because you feel uncomfortable reading it. Instead, they have a set of guidelines that a review should violate for them to delete it.
Google is allowing businesses to manage their reviews by expanding its GMB features. Launching the new review management tool will enable companies to report inappropriate reviews. Also, they can check the status of previously reported reviews.
You can remove a review by using Google search and Google Maps app.
What are the steps to flag a review on Google Maps app?
Step 1. Go to the Google maps app
Step 2. Search for your business profile
Step 3. Find the review you want to report
Step 4. Click on the 3 dots and select "Flag as inappropriate."
What are the steps to flag a review in Google search?
Step 1. Go to google
Step 2. Find your business profile
Step 3. Look for the Google reviews section
Step 4. Find the review you want to report
Step 4. Click on the 3 dots and select the option "Report review" select the type of violation
Do Google reviews damage a business?
Though we told you how to remove a bad review, should you delete a critical review? According to experts, you shouldn't. Bad reviews are tricky. One negative review can have its damaging effects, but bad Google reviews don't hurt your business permanently. However here are the reasons they can be beneficial.
Negative reviews help with SEO
While describing what matters in ranking on the Search Engine Research Page, Google gives a lot of importance to reviews. Reviews, either bad or good, help improve local SEO for any website. Every review includes business location and business, which will help it rank and catch users' attention.
Controversies help you go viral
This may sound unethical but stay with us while we explain how. When you get more bad or good reviews, you are in the public eye.
As we suggested, you will also catch some attention when you share your experience of getting attacked by your haters. This will help you achieve virality and new sympathetic customers who want to revive our business's reputation.
Read how FedEx reacted to the ill behavior of one of their delivery boys openly by apologising.
You become invincible when you show what you are supposed to hide. This practice will show you that you have nothing to hide.
Negative reviews make you look human
Even the most renowned businesses have some negative Google reviews. However, if a business has only positive reviews, it may seem too good to be true, and customers begin to doubt the company.
We don't know about you, but we look for bad reviews on a business to understand the worst of what we can expect.
Final Verdict
If you think you're drowning in bad Google reviews and spend way too much time trying to improve, then maybe you need a change in business strategy.
You can buy Google reviews from reliable review sites. This can be your final resolution; however, don't overdo this because buying Google reviews comes with its repercussions.
Now, you know what to do if you find Google reviews damaging your business. We hope you take the needed action and understand both sides of the same coin. If you've been avoiding managing the reviews, then it's high time you take them seriously.
Frequently Asked Questions FAQs
#1. What are the best practices for getting Google reviews?
To get more Google reviews on your Google My Business account :
Verify your business profile, as it builds credibility and lets you reply to the reviews left by customers
Remind customers to leave reviews via regular emails and SMS
Reply to reviews to build customer trust, as it creates a feedback loop
Value all reviews, either bad or good
#2. How to make it easy for customers to leave a review?
Customize your business' Google review link and share it.
Include the link at the end of every mail you send to customers during a campaign
Leverage every conversation with your customer and for leaving a review at the end of all the chats
A customer can ignore everything, but they will check the receipt, so include the link here
#3. Does Google review matter for my business?
Never ignore customer feedback. Google reviews help
Create brand trust
Increase Click-through rate (CTR)
Improve local SEO
Create a feedback loop
Google review is a free tool that can do wonders for businesses if used correctly.
#4. How much can a bad review hurt you?
Positive reviews can help your business grow, while bad online reviews can destroy it.
#5. What should businesses do when customers leave negative reviews?
Customers who write bad online reviews typically want their issues resolved. So in that case, contact the consumer and request that they contact you personally to explain what happened. So businesses must focus on fixing the problem and collecting more positive reviews.
How Can Facebook Reviews Help Your Business's Sales?
Facebook reviews can have a significant impact on your company's sales. More than 50 percent of users' purchase decisions are influenced by Facebook, and 80 percent of consumers are more likely to believe a local business with positive Facebook reviews. Apart from Facebook yelp reviews can also help in boosting sales, and search results.